Voices of Asian and Pacific Islander Women in the JLFW
Conversations with Dr. Tara Reed, Diversity & Inclusion Chair
I recently had the pleasure of interviewing two outstanding members of the Junior League of Fort Worth (JLFW) in our third and final installment of our D&I three-piece article covering diverse voices in the League. The value that we can take from each of our interviewees is priceless. Each of these members represent our Asian and Pacific Islander sisters and each are powerful in their own right! However, together their voices make music and teach us so much more about how our League can be inspiring, innovative and inclusive in an evolving community like Fort Worth. I encourage you to continue learning about the diverse cultures and women that are woven into the fabric of our League!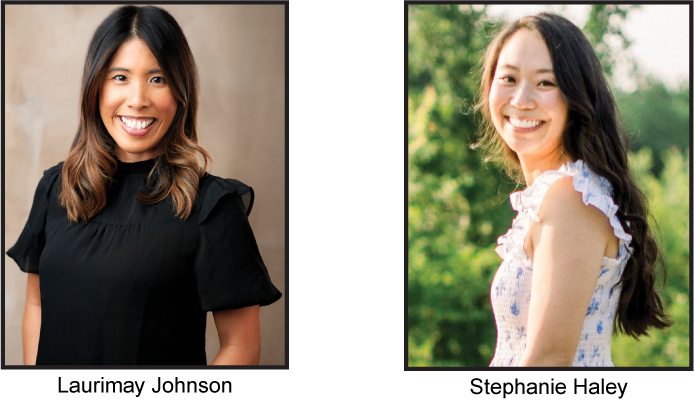 Tara: When did you join JLFW and why?  What was the draw?  
Laurimay: My Provisional year started in June 2019.  Prior to my membership into JLFW, I worked for 13 years as a Clinical Pharmacist. My passion has always been to serve, especially acutely ill patients in the hospital setting. I found my niche in pharmacy as a clinical pharmacist in emergency medicine and critical care. Over that timeframe, I was able to serve the communities I lived in by supporting the medical team to optimally care for patients in various clinical situations. In the months before I joined the JLFW, I slowly decreased my hours at work (eventually transitioning to stay-at-home mom), so that I can not only devote more time to my family, but to learn more about the community I live in and to serve this community through another type of capacity – voluntarism. I was stunned to see the many organizations in our city alone devoted to meeting the needs of the community. After a short conversation with a JLFW member, I decided to research the Junior League and its initiatives. I found that many of the organizations that interested me regarding volunteer opportunities were included in the long list of organizations that the JLFW serves. Along with that benefit, I knew the League would be a source of knowledge and support in fostering the skills of voluntarism and servant leadership. Furthermore, it was astounding to see how many talented and giving women in this community that have come together since its founding to make such a huge difference in Fort Worth. This all confirmed my interest in being a part of this organization, where I can continue to cultivate my greatest talent of service to others in the fellowship and guidance of like-minded women.
Stephanie: I joined JLFW in 2019 as someone who had newly moved to Fort Worth in order to continue to fulfill my passion of serving in the community and to meet other like-minded women.
Tara: What does being in Junior League mean to you as an Asian and Pacific Islander woman?  
Laurimay: As an Asian American woman raised in Tennessee, my life experiences have provided me unique perspectives on belonging and justice. I strongly believe representation matters, and it is incredibly important to me to be a positive source of validation and support for other Asian Americans in our community. I am extremely grateful to live in a community where the Junior League is present and available for all women who want to serve.
Stephanie: I'm humbled to be a part of an organization that has had such a longstanding history of building solutions and expanding resources in Fort Worth. I hope to contribute to and support the League's legacy while also bringing fresh and diverse perspectives!
Tara: What are your favorite leadership roles in and out of the Junior League?
Laurimay: I've always believed that leadership is for everyone in the community. Given this, my favorite leadership roles are wife and mother. Ensuring that my husband and I raise a kind, service and community-minded person is important to me, and my participation in the JLFW is one way to model this. Being service minded requires that you bring together different skills: effective communication, personal relationships, adapting to challenging situations, and putting others over self, all pillars of the JLFW. 
Within the Junior League, I have enjoyed being Done in a Day Co-Chair and Placement Assistant Co-Chair. Both roles have allowed me the opportunity to collaborate and engage with several community organizations in Fort Worth.
Stephanie: I loved serving as a Training Co-Chair this past year in the League. Outside of Junior League, while I enjoyed being a management consultant for many years, I would actually say that becoming a mom has been the most challenging and rewarding role that I've taken on!
Tara: As JLFW reaches 100 years, what do you hope to see more of in terms of leadership, inclusion and community affiliation?
Laurimay: To know where you are going, you need to know where you have been. It would be meaningful to our members, and the greater Fort Worth community, to host an event focused on the history, milestones and timeline of the JLFW.
From there, I would like to see us help create a multi-cultural event, where we can share in food, fellowship and entertainment representative of the myriad cultures and ethnicities of our county.
Stephanie: I'd love to see JLFW be a bastion of belonging for individuals of all walks of life and backgrounds. By allowing  service  to be our unifying force, I believe the League can continue to empower, connect, and bring together women from all backgrounds under the single mission of making the greatest impact we can on our community. 
Tara: What connections do you feel The League needs to make in our local Asian and Pacific Islander community to become more inclusive? 
Laurimay: From the 2020 Census, the six largest ethnic groups residing in Tarrant County are Chinese, Filipino, Indian, Vietnamese, Japanese and Korean. Given this, we should first do a landscape analysis of organizations either led by or servicing our Asian and Pacific Islander neighbors. From there, we can then create the best strategy for outreach and catalyzing meaningful connections within the community.
Stephanie: The Asian population is the fastest growing demographic in North Texas according to the most recent Census!  It would be wonderful to see the League partner with more local Asian and Pacific Islander non-profits and organizations to expand our footprint to serve more directly in areas with significant Asian and Pacific Islander communities (for example,  Haltom City).
The Diversity & Inclusion Committee would like to thank Laurimay Laroco and Stephanie Haley for taking the time to talk with us and share their stories with our members. To learn even more, make sure to sign up to attend the Voices of Asian and Pacific Islander Women Table Talk Training this spring! Let's keep the conversation going!
To read the first installment, Voices of Latina Women in the JLFW, click here.
To read the second installment, Voices of African American Women in the JLFW, click here.