2021 Fall Day of Giving provides 450+ volunteer hours to local nonprofits.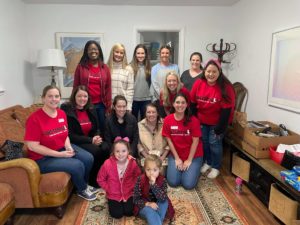 On Saturday, November 13, 2021, over 100 members of the Junior League of Fort Worth joined forces for the annual Fall Day of Giving to provide 450 hours of service in just one day! The semi-annual Day of Giving event is a community collaboration in which Junior League of Fort Worth members volunteer with local agencies needing assistance with various jobs that can be completed in a day.
This fall, 23 agencies were chosen to receive help from Junior League of Fort Worth volunteers. Volunteers assembled books for low-income readers at Literacy United, spruced up the garden at McFarland house for Historic Fort Worth, gave the Lighthouse for the Blind facility a fresh coat of paint, and so much more!
2021 Fall Day of Giving Agencies supported include:
Children's Charities of Fort Worth
Jo Kelly School
Victory Therapy Center
Project 4031
Volunteers of America Texas
Breakthrough Fort Worth
Cornerstone Assistance Network
Lighthouse for the Blind
Community Store House
A Wish with Wings
Ballet Frontier of Texas
Presbyterian Night Shelter
Tarrant County Homeless Coalition
Alliance Child and Family Solutions
The Ladder Alliance
6 Stones Mission Network
Homes for Children Corporation
Historic Fort Worth Inc.
Trinity Collaborative Inc.
Literacy United
M.H.M.R Foundation
Crowley House of Hope
ACH Child and Family Services
The Junior League of Fort Worth's Spring Day of Giving is scheduled for April 2, 2022. Agencies interested in participating are asked to submit their applications by February 11, 2022. Click here for information on how to submit a Spring Day of Giving application.